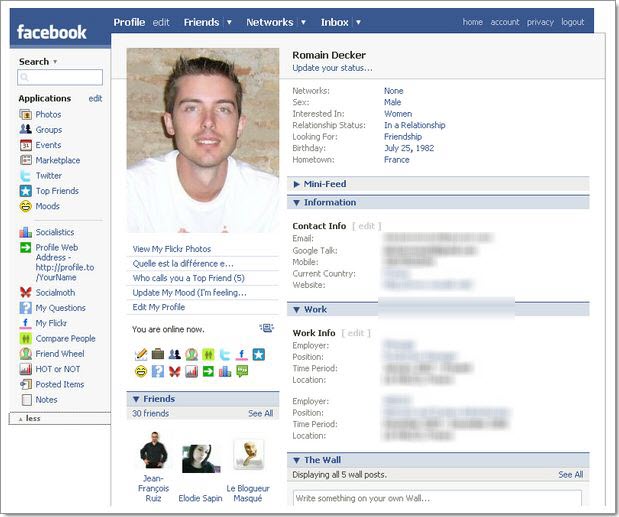 Facebook has become an incredible success in Western countries, daily commented in the media. This platform of socialization is reaching now some 60 millions members in the world. Just in Canada 8 millions people have registered, which means one out of four Canadian citizens uses it. This digital innovation seems to answer an incredibly urgent social need. And this new phenomena tends now to extend even to China. A similar socialization site Xianoei, the so called Chinese Facebook, has raised $430 millions recently in funding from Softbank, according to a report from Venture Beat*. Facebook has also eventually tried to acquire another similar website in China, called Zhanzuo.com, which counts 7 millions users**.
The original idea inspiring these popular networking sites originated from the school's albums of names and photos of the students of each class traditionally published yearly by English and American colleges and universities. But it has become much more powerful, when launched on line. Any user is invited to freely put his photo and name on the site, with his email address and to add personal information, such as his individual interests, the books he reads, the films he likes, his favourite sportive activities, and to include photos of his house, his family, his boyfriend, his pets, his holidays, etc. And of course, you should not forget to publish and update your curriculum vitae, supposed to attract also possible future employers. As such, Facebook looks mainly as a public virtual meeting place where you may be seen and contact friends. It gives also to many users a feeling of a higher level of existence and social recognition. Shortly said, it is a cyber public place for networking, public relations, social valorization and the hope of making friends. Not to be there looks like staying in the obscure shadow of today's life, or paradoxically not really existing!
We cannot avoid questioning such behaviours and their incredible digital success from the psychological and sociological point of view. Should we conclude that so many people suffer of solitude in our mass societies? Is real communication getting so poor and rare now a days, that people need an artificial digital device to compensate their frustrations and anonymity? When people watch their page in Facebook and hope daily if not hourly for a click on their name, doest it mean that the traditional public places, squares, cafés, bars, discotheques, sport places, clubs, etc. have lost their efficiency and conviviality? We observe even a surprising addiction of young people, eager to visit constantly their Facebook pages and look for eventual visits. And this site is not any more just a place for students and younger. It becomes a kind of recognized social institution. Any singer, sportsman, political candidate, has to be there and to react to visitors, update, multiply his information, and seduce. Even humanitarian organizations, libraries, churches, big corporations think they have to register and promote themselves on Facebook. Will it become a place for a philosopher? For future Socrates to teach?
Of course, we cannot only consider this angel's face of Facebook in its lashing financial success. Launched 2004 by Mark Zuckerberg, a student at Harvard University, this site reached already a turnover of 50 millions dollars in 2006, and may be worth now 15 billions dollars. Microsoft has bought a minority participation of 240 millions$ last October. Facebook has become the sixth most visited website worldwide with a frequentation far larger than in any other similar popular exchange website, such as well known MySpace, Yahoo, OpenSocial, Friendster, Windows Live Space, Youtube, etc.
Attracted by the huge amount of personal information collected spontaneously about so many people which has become now accessible on Facebook for anyone, many big corporations have considered using it for lifestyle analysis of possible clients, and for new marketing opportunities. They have seen the possibility of focussed promotion campaigns operating by personal emails. Coca-Cola, Microsoft, Sony, Blockbuster, Overstock and many others have become soon close and active partners with Facebook. And Mark Zuckerberg, listening of course to the siren song, has integrated in his site new automatic functionalities to facilitate this focused marketing. Maybe with a sense of self humour, he has given it the significant and trivial name of Bacon. By selling the personal profiles of its members to big corporations, Facebook could hope to generate high publicity incomes, and increase immediately its commercial value.
This evolution let appear in full light the other face of Facebook, which does not look anymore just as a friendly virtual networking place. Members discovered they ware trapped in a commercial disposal. Of course, many of them have protested and denied the right to be used that way, denouncing the commercial emails they were receiving. They have organized a protest, Moveon.org, and let circulate a petition requesting the respect of their privacy. The Electronic Privacy Information Centre has also publicly attacked the Beacon initiative, and all together they have obliged finally Facebook to move back. It has offered the possibility to those who want to remove their automatic agreement to the Bacon functionalities.
Just considering the Beacon story, one could say it was an abuse of power by Facebook, which has been corrected, and we should consider this misuse as an easy to understand commercial temptation for a young and ambitious entrepreneur, whom one had ingeniously considered as a gentle and stimulating social animator. But giving then more attention to the by-laws which are published in small letters on the website, one discovers surprising evidences of the obscure face of Facebook. By entering the website and giving one's name and email address, one is considered automatically subscribing contractual obligations which are outrageous because they oppose directly to the fundamental civil rights. If you just take a chance of reading the contract (http//www.facebook.com/policy.php), – which nobody reads - you will discover the methods and spirit of Facebook, which declares:
- We may share your information with third parties, including responsible companies with which we have a relationship.
- We may use information about you that we collect from other sources, including but not limited to newspapers and Internet sources such as blogs, instant messaging services and other users of Facebook, to supplement your profile.
- By posting User Content to any part of the Site, you automatically grant (…) an irrevocable, perpetual, non-exclusive, transferable, fully paid, worldwide license (with the right to sublicense) and distribute such User Content for any purpose, commercial, advertising, or otherwise(…) ("Terms of use" de Facebook au 21/11/2007 www.facebook.com/terms/php).
- Facebook Beacon enables your brand or business to gain access to viral distribution within Facebook. Stories of a user's engagement with your site may be displayed in his or her profile and in News Feed. These stories will act as a word-of-mouth promotion for your business and may be seen by friends who are also likely to be interested in your product.
Finally you have abandoned for ever your intellectual and moral property on any information you have put on Facebook. Facebook claims the right to use and exploit it the way it wants. You are not allowed to take it back from the site. And worse: Facebook states even the right to put additional information about you, taken from any other source it may consider, without asking your permission. Frankly such a contract is just outrageous. It is the worst example of the abuses of the Digital Far West, with no law, no sheriff, which the cyberspace may still evocate.
Hervé Fischer
__________________________________________

* Xinaoei was founded in December 2005 by Qinghua University graduates Wang Xing, Wang Huiwen, Lai Binqiang and Jacky, later on acquired by Oak Pacific Interactive in 2006 and announces now some 16 millions users. www.xiaonei.com
** Zhanzuo.com counts 7 millions registered users. It has been told that Facebook was ready to acquire it in November 2007 for $85 millions. It has not yet been confirmed.